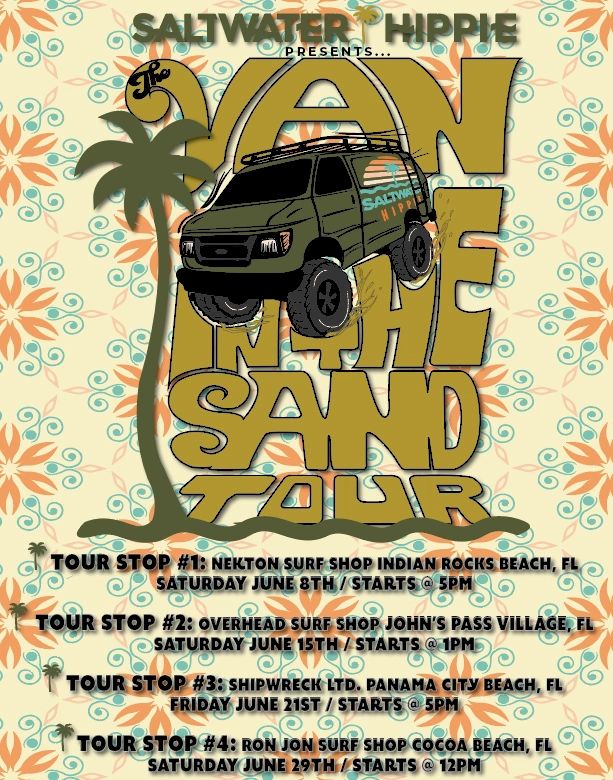 For Immediate Release.

Press Release: Saltwater Hippie to hit the road for an early summer tour throughout Florida.  
Madeira beach, Florida [June 8th]—Start your summer off right—in the sand. Saltwater Hippie, a lifestyle brand for casual clothing and beach living, invites you to its "Van In The Sand Tour". Boasting free food, local music and relaxing lounge areas, guests receive a gift with their purchase of Saltwater Hippie products from each retail stop on tour. Beer flowing from taps on the side of the company's trademark van complete the fun, laid back tour. 
Created by the brands' marketing and sales director Dustin Howard, the tour consists of four stops through Florida: 
·         June 8th – Nekton Surf Shop, Indian Rocks Beach, FL  
·         June 15th – Overhead Surf Shop, John's Pass Village Madeira Beach, FL 
·         June 21st – Shipwreck Ltd, Panama City Beach, FL 
·         June 29th – Ron Jon Surf Shop, Cocoa Beach, FL
The tour's kick off at Cory Lopez's Nekton surf shop brought the beach vibes. "A welcoming atmosphere with good people, good music and such an easy-going vibe makes a really enjoyable way to get to know a lifestyle brand," said Lopez. "I grew up where Saltwater Hippie is from, it's refreshing to see something this fun come from our area". 
For event updates visit Tour Updates  
About Saltwater Hippie 
The company started in 2015 in Madeira Beach, FLA as a beach lifestyle brand and has stuck with the mantra of good vibes, good music and an outlook of, you can find me, "somewhere in the sand".  Whether their customer is living in a coastal community or visiting one, they are catching the vibe and spreading the word.  To learn more about the company or shop products visit https://saltwaterhippie.com/p/press.